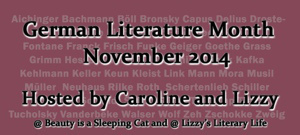 This review is part of the German Literature Month, hosted by Lizzie (Lizzies Literary Life) and Caroline (Beauty is a Sleeping Cat)
Usually I am not quoting from book blurbs. But in this specific case, I'll gladly make an exception:
"Mike Klingenberg doesn't get why people think he's boring. Sure, he
doesn't have many friends. (Okay, zero friends.) And everyone laughs at
him when he reads his essays out loud in class. And he's never invited to
parties – including the gorgeous Tatiana's party of the year.

Andre Tschichatschow, aka Tschick (not even the teachers can pronounce his name), is new in school, and a whole different kind of unpopular. He always looks like he's just been in a fight, his clothes are tragic, and he never talks to anyone.

But one day Tschick shows up at Mike's house out of the blue. Turns out he wasn't invited to Tatiana's party either, and he's ready to do something about it. Forget the popular kids: Together, Mike and Tschick are heading out on a road trip. No parents, no map, no destination. Will they get hopelessly lost in the middle of nowhere? Probably. Will they meet crazy people and get into serious trouble? Definitely. But will they ever be called boring again?

Not a chance."
Wolfgang Herrndorf's Young Adult novel Why We Took The Car, Winner of the German Teen Literature Prize, sold so far more than one million copies. Again, I am usually not mentioning this kind of facts, But here I had the feeling that there can be nothing wrong with the reading culture when such a well-written book attracts such a big audience of a (partly) juvenile audience.
The novel is a fast and straightforward story of two 14-year old boys that grow up in Berlin.
Mike comes from a wealthy family, although his father is recently "preparing for bankruptcy" because his real estate development project was successfully stopped by some environmentalists (or environmental fascists as Mike's father, the least endearing personnage in this book calls them.) But living in a decent neighborhood, in their own house with garden and swimming pool doesn't compensate for the downsides of this idyll: Mike's mother, although a  genuinely loving and funny person, has a serious alcohol addiction that requires regular treatment, and Mike's father doesn't even hide it that he has an affair with his "assistant", a girl just a few years older than Mike.
Tschick (also the title of the novel in German) on the other hand is an immigrant from Russia of German/Russian/Jewish/Gypsy origin – but since this information comes from the notoriously ironic and unreliable Tschick, we cannot be really sure about the truth of this information. Tschick is coming from a completely different social background, although we – like Tschick's classmates or teachers are for most part left in the dark about the details.
When Tschick turns up surprisingly at Mike's home in a…ehem…"lent" Lada, a series of events is unfolding that remembered me of a road movie. First the two misfits turn up uninvited at Tatiana's birthday party, where Mike can hand over his present, a pencil portrait of the singer Beyonce on which he has worked for weeks. Then the two are off to Wallachia, a region somewhere in the European periphery where Tschick has relatives – again this is his own version and we can't be sure if he is reliable here. (A short remark here: when in German someone wants to express that another person lives in the middle of nowhere, he usually says that this person lives in the "Wallachei". This coincidence is rather funny, and again we can't be sure if Tschick's quest for Wallachia wasn't meant ironically.)
Without map and with very limited knowledge regarding directions the two boys make their way to the region south of Berlin, once obviously passing by the Lausitz region – they remark street signs in another language without having crossed a border – and on their way they have all kind of odd people meeting them. One of them is Isa, a girl that is so different from the admired Tatiana, and although she is a bit strange, she leaves a lasting impression on Mike. Maybe there is more to girls than just good looks? At least with Isa it is possible to have a real and meaningful conversation and she seems much more grown up than Mike's other classmates.
Some other meetings Tschick and Mike have on the road will for sure stay also with the reader for a long time. My favorite was the funny family that didn't go shopping in the only village supermarket but who celebrated each lunch with a kind of quiz show better than in any TV channel. Also Horst Fricke, a former sharpshooter that the two encounter, is quite a number. His slightly hostile approach melts away rather quickly and he gives the two youngsters some practical wisdom about love and life: 
"There's one thing you need to understand, my doves", he said, finishing up. "Everything is meaningless. Love too. Carpe diem."

 
Not surprisingly, the joy ride ends in quite a mess. But although the two friends have a court trial – Tschick has to do time in a youth detention center, but Mike is more lucky since he has to do some community work only – the reader gets the impression that these two boys will make their way in the future. They experienced friendship together, maybe for the first time, and they learned also an important lesson about life: 
"Ever since I was a little boy my father had told me that the world was a bad place. The world is bad and people are bad. Don't trust anyone, don't talk to strangers, all of that. My parents drilled that into me, even TV drilled that into me. When you watched the local news – people were bad. When you saw primetime investigative shows – people were bad. And maybe it was true, maybe ninety-nine percent of people were bad. But the strange thing was that on this trip, Tschick and I had run into almost only people from the one percent who weren't bad. And now here I was, getting a random stranger out of bed at four A.M., for no good reason, and he was super nice and even willing to help us. Maybe they should tell you things like that in school too, just so you're not totally surprised by it."

 
I liked particularly about the book that although it is written with a light hand and is full of dialogues that make the reader laugh or smile, it takes its two main characters so serious; there is none of the patronizing attitude and the pseudo-funniness that makes so many books written for Young Adults such a depressing read. To be young is frequently not at all funny, and these two boys are in a way terribly lonely. The good thing is that the book shows that no matter how strange you may think you are, you can still make true friends in life whom you can trust even with your secrets (Tschick has such a secret and that he trusts it to Mike is a great sign of friendship).
Wolfgang Herrndorf (1965-2013) was a painter and illustrator; his writing career started late and gained only momentum when he was already terminally ill with a rare form of brain cancer (glioblastom). I intend to review his book Arbeit und Struktur (Work and Structure) soon. Those of you who read German can have a look at this text that was first published as a blog and documentation of the last months before his suicide here.
My reading copy was provided by Lizzy, the co-host of the German Literary Month as a giveaway of one of her Wednesdays-are-wunderbar events. I am grateful to have had a chance to review this book.
Wolfgang Herrndorf: Why We Took the Car, translated by Tim Mohr, Andersen Press, London 2014 
© Thomas Hübner and mytwostotinki.com, 2014. Unauthorized use and/or duplication of this material without expressed and written permission from this blog's author and/or owner is strictly prohibited. Excerpts and links may be used, provided that full and clear credit is given to Thomas Hübner and mytwostotinki.com with appropriate and specific direction to the original content.