"What struck him most was the fact that from Monday on he would be Luzhin."
These words mark a beginning and an end – the beginning of Vladimir Nabokov's novel The Luzhin Defense and the end of the probably happiest period in the life of the protagonist when he was the pampered only child of a wealthy St. Petersburg family in pre-revolutionary Russia, living the protected existence of children of this class, when life seemed to be a long holiday. But time is not standing still, finally the boy has to attend school in the city where everybody will address him by his family name only. A rather traumatic experience as it turns out, although the child seems to accept the fact quietly.
It is an interesting decision of Nabokov to present this rather strange boy and later even more strange grown-up with his family name only (even his parents and his wife address him half-jokingly only with this name and not with his first name and patronym as would be usual). It is not until the very end when the readers learn the full name of the hero of the book.
And indeed, there seems to be an aura that creates a distance between Luzhin and the rest of the people. He is not communicative, likes to stay on his own, resolving mathematical problems or puzzles, and he seems to be unable to make friends or be even close with his parents who make all kind of efforts to shower Luzhin with their affection and love to which he reacts by withdrawing even more. His parents seem sometimes to be at a loss what to make of this strange bird that grows up in their nest and that shows no sign of serious interest in anything – until the day he discovers a chess set and learns how to play.
Luzhin develops into a chess wunderkind, with an all-absorbing passion for the game that is reluctantly supported by the father (who seems to be too happy that his son will not be a complete failure and be successful even when it is an activity that society doesn't consider as something worthy of an educated person with his background). A chess impresario, Dr. Valentinov, takes the child prodigee under his wings and Luzhin becomes one of the most serious contenders for the title of a World Chess Champion.
The second part of the novel centers around a game of Luzhin with his main rival Turati, followed by a mental breakdown of Luzhin that forces him to give up on his chess career.
But Luzhin is lucky: he finds a young Russian woman from a wealthy emigrant family in Berlin that falls in love with him; despite strong reservations from the mother-in-law, the couple marries and finally Luzhin seems to embark for the first time in his life on a normal life. Everything would be fine, if he would not see everywhere these chess patterns, and to make things worse, one day his childhood nemesis Valentinov turns up again.
It is difficult not to quote excessively from this book – although written and published originally in Russian the English translation reads very smoothly and elegant, no surprise since Nabokov who co-authored the translation grew up bilingual – because there are simply too many parts which show the great mastery of Nabokov even at this comparatively early stage of his career. I will refrain myself and will give only two examples:
Dr. Valentinov, the chess impresario, is described as a cold, cunning, profit-oriented and extremely unsympathetic person (I was wondering: thinking of Silvio Danailov, a famous present day chess impresario, I suppose these character traits are part of the job description. Well, the real-life Danailov seems to be even more unlikable than the novel character Valentinov!).
When young Luzhin loses his wunderkind appeal and becomes just a strong chess grandmaster, Valentinov is walking away without saying much – but with a full bank account (while Luzhin remains quite poor and receives only a few "crumbs" from his income). While Valentinov becomes a film producer – there was much more money to make in the booming film industry of the 1920s – he comes up with a project idea for which he needs Luzhin and some other chessmasters as "staffage". The few lines that describe their meeting after many years not being in touch are masterful and give in a nutshell a description of the character of both men:
"At this moment the door opened with a rush and a coatless, curly-haired gentleman shouted in German, with an anxious plea in his voice: "Oh, please, Dr. Valentinov, just one minute!" "Excuse me, dear boy," said Valentinov and went to the door, but before reaching it he turned sharply around, rummaged in his billfold and threw a slip of paper on the table before Luzhin. "Recently composed it," he said. "You can solve it while you are waiting. I'll be back in ten minutes." –

He disappeared. Luzhin cautiously raised his eyelids. Mechanically he took the slip. A cutting from a chess magazine, the diagram of a problem. Mate in three moves. Composed by Dr. Valentinov. The problem was cold and cunning, and knowing Valentinov, Luzhin instantly found the key. In this subtle problem he saw clearly all the perfidity of his author. From the dark words just spoken by Valentinov in such abundance, he understood one thing: there was no movie, the movie was just a pretext…a trap, a trap…he would be inveigled into playing chess and then the next move was clear. But this move would not be made."
There are also many scenes where I had to laugh, especially the dialogues between the grubby, unworldly Luzhin and his future mother-in-law, a rich and very sophisticated woman – actually these are more monologues of the eccentric lady who doesn't have exactly the highest opinion of the future husband of her only daughter. Or the attempts to find Luzhin a new occupation after the end of his chess career – rather sad, but also highly comical attempts at times that reach its climax when Luzhin acquires a typewriter:
"It was proposed to him that one of the office employees come and explain how to use it, but he refused, replying that he would learn on his own. And so it was: he fairly quickly made out its construction, learned to put in the ribbon and roll in the sheet of paper, and made friends with all the little levers. It proved to be more difficult to remember the distribution of the letters, the typing went very slowly; there was none of Tot-tot's rapid chatter and for some reason – from the very first day – the exclamation mark dogged him – it leapt out in the most unexpected places.

At first he copied out half a column from a German newspaper, and then composed a thing or two himself. A brief little note took shape with the following contents: "You are wanted on a charge of murder. Today is November 27th. Murder and arson. Good day, dear Madam. Now when you are needed, dear, exclamation mark, where are you? The body has been found. Dear Madam! Today the police will come!!" Luzhin read this over several times, reinserted the sheet and, groping for the right letters, typed out, somewhat jumpily, the signature: "Abbe Busoni."

At this point he grew bored, the thing was going too slowly. And somehow he had to find a use for the letter he had written. Burrowing in the telephone directory he found a Frau Louisa Altman, wrote out the address by hand and sent her his composition."
I would have liked to see Frau Louisa Altman's face when she read the letter.
Nabokov knew about what he was writing in this novel. He came from exactly the same milieu as the Luzhin in the book (even his father was like Luzhin's father, an author). He knew the Berlin milieu of the Russian emigrants of the 1920s from his own life there. And he was a strong chess player that even composed and published chess problems – chess was his other life-long interest beside butterlies. It is very probable that he knew Alexander Alekhine (or Aljechin), the later World Chess Champion with whom Luzhin has many similarities personally – the Nabokov's and the Alekhine's were neighbors in St. Petersburg and both fathers were deputies in the Duma.
The chess part of the book is so much better and superior in every respect to Stefan Zweig's Chess! (I don't want to denigrate Stefan Zweig's writing, but for me it is obvious that he had only a quite shallow knowledge of the game.) Needless to say that also the other chess masters mentioned in the book are inspired by real chess masters (Turati/Reti, Moser/Lasker); and even the end of the novel is based on the fate of a real chess master, Curt von Bardeleben, who was Nabokov's neighbor in Berlin if I am not mistaken.
The Luzhin Defense is a fascinating book about an obsessive character and in my opinion the best chess novel ever published. It is also an excellent starting point to discover one of the greatest novelists of all times. Maybe his most mature English works are even better – but I can't imagine any better starting point to discover the continent Nabokov than The Luzhin Defense.
Do you really need more reasons to read this book?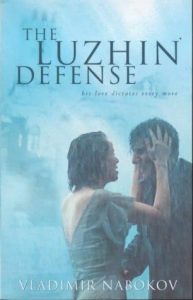 Vladimir Nabokov: The Luzhin Defense, translated by Michael Scammell in co-operation with the author, Penguin Books (originally published as Защита Лужина, by V. Sirin, Slovo, Berlin 1930)
The copy I was reading contained Nabokov's very sarcastic foreword to the English edition "with a few words of encouragement to the Viennese delegation" (i.e. the psychoanalysts for whom N. had so much mockery and contempt) and an instructive afterword by John Updike.
© Thomas Hübner and mytwostotinki.com, 2014-5. Unauthorized use and/or 
duplication of this material without expressed and written permission from this blog's author and/or owner is strictly prohibited. Excerpts and links may be used, provided that full and clear credit is given to Thomas Hübner and mytwostotinki.com with appropriate and specific direction to the original content.