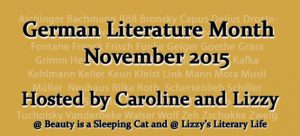 Coming November German Literature Month will take place again, hosted for the fifth time by my two charming blogger colleagues Caroline (Beauty is a Sleeping Cat) and Lizzy (Lizzy's Literary Life).
Last year this was probably the biggest event in the book blogging community with 40 participating bloggers and almost 200 reviews! It is simply amazing to read such a big number of interesting reviews about a big variety of books written in another language than English.
Surprisingly, a complete newcomer won the award for the best review – I still feel flattered and a bit embarrassed – and what is even better: after reading my review of Volker Weidermann's Ostende book, a Bulgarian publisher got interested, read the book and decided to publish it in Bulgarian. That makes me happy since many of my Bulgarian friends will have soon an opportunity to read this great book and will finally understand about what I was raving in my review. 
I will join in again this year. As for my reading plans, I will soon publish them in a separate blog post.
For those of my readers who would like to join this event, these are the simple rules:
1) Whatever you read, in whichever language you read, must have originally been written in German.  Novels, novellas, short stories, plays, poems, they all count. No genre is excluded.
2)  Enjoy yourself.  There's no need to write long, detailed reviews (although we do like those).  A quick opinion piece, the posting of a favourite poem, the tweeting of a pertinent quote or picture of a delicious book cover (using the hash tag #germanlitmonth, of course) all contributes to a communal celebration of German-language literature.
For those who like challenges, Caroline and Lizzy host some theme weeks and readalongs during November:
Week 1: Nov 1-7 Schiller Reading Week. Hosted by Lizzy.
Week 2: Nov 8-14 Christa Wolf Reading Week. Hosted by Caroline.
Week 3: Nov 15-21 Ladies' reading week incorporating a readalong of Ursula Poznanski's award-winning YA title, Erebos on Friday 20.11. Hosted by Lizzy.
Week 4: Nov 22-28 Gents' reading week incorporating a Literature and War readalong of Erich Maria Remarque's A Time To Love and A Time to Die on Friday 27.11. Hosted by Caroline.
Week 5: Nov 29-30 Read as You Please.
You can join one or several of these theme weeks – but it is not a must of course.
There are two options for those of you who want to participate:
If you have your own blog, you can publish reviews there. If you don't have a blog, I offer you to publish your review(s) here as a guest author.
Looking forward to that exciting reading month!
© Thomas Hübner and mytwostotinki.com, 2014-5. Unauthorized use and/or duplication of this material without expressed and written permission from this blog's author and/or owner is strictly prohibited. Excerpts and links may be used, provided that full and clear credit is given to Thomas Hübner and mytwostotinki.com with appropriate and specific direction to the original Content.