Really great artists are frequently very modest, even humble persons, says Orhan Pamuk in the introduction to the photo book Ara Güler's Istanbul. 
Güler calls himself a photo journalist, but he is much more: a chronicler of his home town Istanbul since the late 1940s, a kind of archaeologist (since Istanbul has changed a lot in the last decades), but definitely also a great artist.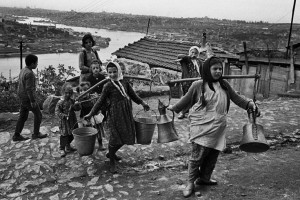 Ara Güler's Istanbul presents just a small sample of the more than 800,000 photos he took almost exclusively with his Leica, but they give a wonderful opportunity to catch a glimpse of the artist's most iconic works.
We see fishermen mending their nets, children playing in front of derelict Ottoman structures, ferry boats passing the Golden Horn, street vendors pushing their carts in the cobblestone streets of Kadıköy, a tram waiting for a man with his horse cart passing the rails. It's usually not the Istanbul tourists know. We see crumbling buildings and people who look tired from their everyday struggle to survive in this glorious city. Istanbul and its buildings are only the backdrop for a big stage: the drama of life with its difficulties, everyday routines and small pleasures.
Güler's photos breathe a deep humanity. The people we see on his photos, no matter how poor they may be, are never devoid of a certain dignity. And frequently there is a touch of magic there too, which is difficult to describe. Just have a look at these breathtaking photos.
Ara Güler's Istanbul, Introduction by Orhan Pamuk, Thames & Hudson 2009
Ara Güler's website: http://www.araguler.com.tr/
© Ara 

Güler (photos) 


© Thomas Hübner and mytwostotinki.com, 2014. Unauthorized use and/or duplication of this material without expressed and written permission from this blog's author and/or owner is strictly prohibited. Excerpts and links may be used, provided that full and clear credit is given to Thomas Hübner and mytwostotinki.com with appropriate and specific direction to the original content.