As always, when I am in a new city, one of the first things I explore are the local bookshops. During the last weekends I have not only bought quite a number of books – part of it I hope to review in the next months – but also visited more than a dozen bookstores. Even some supermarkets and a grocery store in my neighbor have a selection of books in English!
One place that is in any case worth a visit because it is rather unique, is Nilkhet Book Market, a maze of more than 800 (!) book stalls and shops. The area is huge! If you ever come to Dhaka, I am recommending to to have a look yourself! The photo below gives just a small impression and is not really reflecting the size of this place.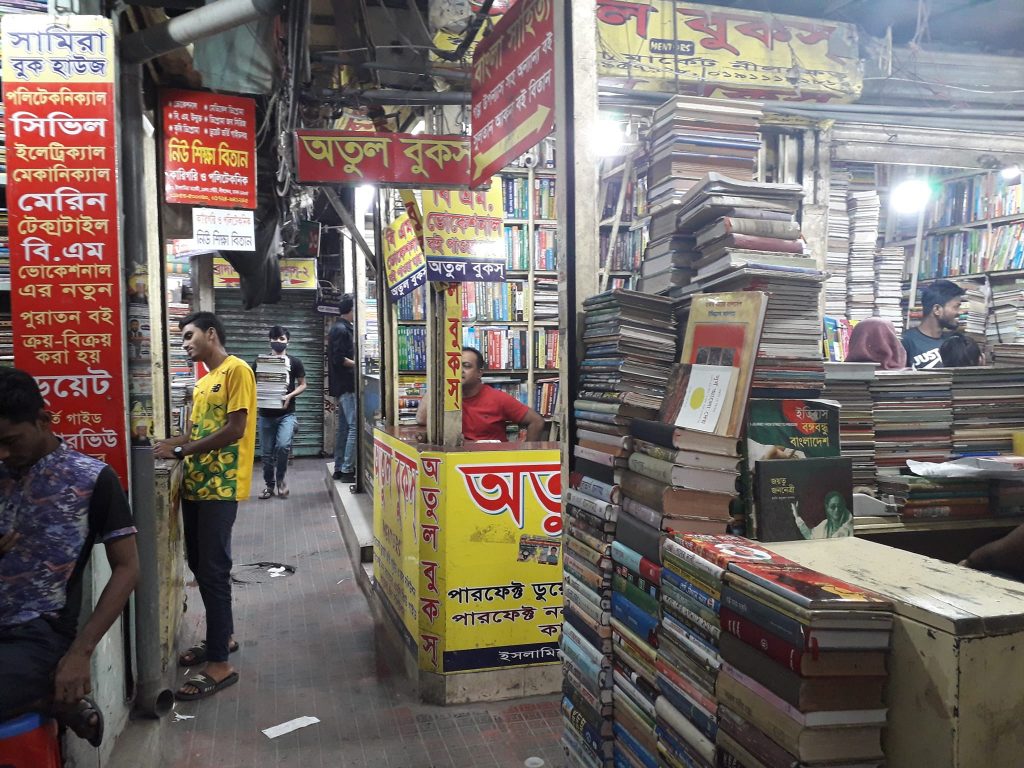 You can find almost any pirated and a lot of 'regular' books here. I bought a copy of Arundhati Roy's "The Ministry of Utmost Happiness" here for app. 2.80 Euro (instead of 9), and it looked almost exactly as the 'regular' book – apart from the yellow paper. Print, binding, cover – same as the original. (I bought also a copy of the non-pirated- book, so no financial harm was done to author, publisher and regular bookstores.)
Nilkhet Book Market originally catered to the needs of students of Dhaka University, which is located right behind the book maze. Nowadays, you cannot find only students here. The shops have been closed several months during the Corona lockdown and this must have been a very hard time for the bookstall owners, since most of them were not prepared to sell online. But now business is open again and things are going slowly back to normal as it seems.
There is a second, smaller book shop cluster on the other side of Dhaka University, opposite the National Museum. In these bookstores you will find (almost) no pirated books. Prices are higher of course, but you can find not only bestsellers there.
You can find Nilkhet Book Market at 1 Mirpur Road, opposite the New Market. This is one of the most busy areas of Dhaka and probably the busiest one to which I have ever been in my life. I am not prone to attacks of claustrophobia, but this time it was a close call until I got there 🙂
 © Thomas Hübner and Mytwostotinki, 2014-22. Unauthorized use and/or duplication of this material without expressed and written permission from this blog's author and/or owner is strictly prohibited. Excerpts and links may be used, provided that full and clear credit is given to Thomas Hübner and Mytwostotinki with appropriate and specific direction to the original content.