Maybe Varadin Dimitrov, the new Bulgarian ambassador in London should have announced his arrival at his duty station earlier. But he prefers to catch his embassy staff by surprise and much to his dismay he realizes that a lot of things are not going too well in this important outpost of Bulgarian diplomacy.
The cook, a crucial person in each embassy as it seems, is not only caught in dubious business deals with a failed actor and his even more doubtful associate of probably Siberian origin; he has also a true Xanthippe as a wife and even worse: he obviously had never access to the treatise "On the hierarchy of the diameter", a never published dissertation which makes its rounds secretly in diplomatic circles because it explains the difficult art to make sandwiches of the right size – as the Ambassador learns from a guest at his first reception. – We will never know for sure if this guest was poking fun or if he is dead serious.
Also the other embassy staff is quite remarkable: the technical staff is spinning intrigues against the diplomats and vice versa, an important speech is almost lost due to the incompetence of a stagiaire, the embassy building is used as a kind of cheap hotel by Bulgarian guests (such as the mayor of Provadia) and even by fired former embassy staff that rejects to leave this cozy and cheap place.
But the worst are the phone calls that the Ambassador receives from Bulgaria from a certain person that was instrumental in his being posted to this attractive location – this individuum is obsessed by the wish to have an opportunity to meet the Queen in person and is reminding poor Varadin very urgently to pay back for this favor.
Fortunately for the ambassador, there are also a few things that seem to make his stay in London at least partly pleasant: there is Katya, the attractive student that is cleaning his office and who as it turns out has also many other talents, and there is also this nice British MP, a true friend of Bulgaria who gets him acquainted with a seemingly very discreet and efficient PR agency that can resolve his major problem with the Queen…
It would spoil the fun of reading this novel which is full of surprising developments, funny situations and satirical moments, if I would say more about the plot. Alek Popov knows how to develop a story and how to keep his reader's attention. This is the kind of story that asks on every page to be turned into a movie, and indeed "Mission London" was successfully adapted into a film by Dimitar Mitovski and which was a box office hit in Bulgaria in 2010 (outperforming even Avatar).
In the second half of the book Popov is doing a little bit too much, some developments are too forced and exaggerated for my taste and one or two loose ends are not properly tied up. But it is definitely a lot of fun to read this novel that has plenty of tempo and offers excellent entertainment during the biggest part of the book. Some critics compared him with John Irving or T.C. Boyle. That's aiming a little bit too high, but Popov is definitely a very talented author. It will be interesting to read more from him.
And, by the way, after I read this book I am glad that I didn't aspire to go for a career in the diplomatic service.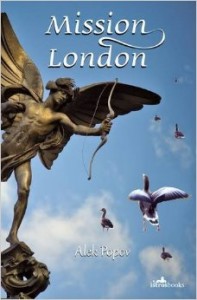 Alek Popov: Mission London, Istros Books 2014, transl. by Danielle and Charles de M Gill
© Thomas Hübner and mytwostotinki.com, 2014. Unauthorized use and/or duplication of this material without expressed and written permission from this blog's author and/or owner is strictly prohibited. Excerpts and links may be used, provided that full and clear credit is given to Thomas Hübner and mytwostotinki.com with appropriate and specific direction to the original content.