Are you a bookworm? Great, then we have a thing in common! Are you a bibliophile, a person who loves books? You are not alone! Are you a book collector? Yes, I also belong to that species! Are you a bibliomane? Uh-oh, then you might be in trouble!
According to Wikipedia, "bibliomania can be a symptom of obsessive–compulsive disorder which involves the collecting or even hoarding of books to the point where social relations or health are damaged." Next to this definition you see a photo of some bookshelves with the neat caption: "Cluttered bookshelf, one symptom of bibliomania." – No, the photo was not taken at my home – since even cluttering my bookshelves isn't sufficient anymore for all the books at my place…
Bibliophilia or bibliomania can even have tragic consequences, in fiction and in real life; Peter Kien in Elias Canetti's Auto-da-fe comes to mind, as well as the real-life biblio-criminals Don Vicente or Magister Tinius, two priests who committed murder out of an insane compulsion to increase their libraries. (Isn't it interesting that of all people two priests are the most extreme cases of book-insanity?)
The small and charming book The Paper House by Carlos Maria Dominguez (with beautiful illustrations by Peter Sis) fits very well here.
The ingredients: Bluma Lennon, an attractive female English literature professor with a – in the true sense of the word – fatal love of the poetry of Emily Dickinson; her Argentinian part-time lover and successor at the university who is the narrator of the story; a stained and gritty copy of Joseph Conrad's The Shadow Line; and Carlos Brauer, an Uruguyan book collector who sent this strange copy to Bluma.
While on a visit at home in Buenos Aires, the narrator uses the opportunity to go to Montevideo and to investigate about Brauer and his relationship with Bluma. What he learns from the owner of an antiquarian bookshop in the Uruguayan capital, and a book collector who knew Brauer well, makes the narrator – and the reader! – more and more curious; and when he finally discovers the House of Paper to which the title alludes, Brauer has become a real mystery. Of course I will not give away the full story here – but for addicted readers like you this small book will be a treat, that's for sure.
The House of Paper is a very enjoyable novella that I read in one sitting. For all of you that have an issue with bibliomania, the book may be also of educational value. Carlos Maria Dominguez is a very productive Argentinian author who lives in Uruguay. The House of Paper makes me curious to read more of his books. If I am not mistaken, this is the only book by him so far translated in English; two of his novels and another book with stories are available in German.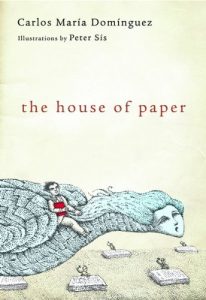 Carlos Maria Dominguez: The House of Paper, translated by Nick Caistor, illustrations by Peter Sis, Harcourt, San Diego 2005
© Thomas Hübner and mytwostotinki.com, 2014-5. Unauthorized use and/or 
duplication of this material without expressed and written permission from this blog's author and/or owner is strictly prohibited. Excerpts and links may be used, provided that full and clear credit is given to Thomas Hübner and mytwostotinki.com with appropriate and specific direction to the original content.