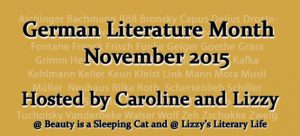 This blog post is part of the German Literature Month, hosted by Lizzie (Lizzies Literary Life) and Caroline (Beauty is a Sleeping Cat)
Ten years ago, the arguably most outstanding representative of this generation of German-language poets, Thomas Kling, passed away at the age of 47. With his almost encyclopedic knowledge of many subjects, including literature, history, geology and his rich language he created "poetic installations" that are particularly gripping in their polyphony when read by an experienced performer that make his poetry sound like spoken music; Kling was an impressive stage performer (a "Rampensau" as we say in German) and if you can you should look not only for a collection of his poetry, but also for a CD with poems read by himself.
As always with poetry, a translation can only give a pale reflection of the original, and many of the most elaborated poems of Kling are simply untranslatable; but I want to give at least a small impression by presenting you translations of three comparatively conventional poems by Thomas Kling (in his very special orthography):
porträt JB. fuchspelz,
humboldtstrom, tomatn

(ca. '72)
düsseldorf, aufm schadowplatz. Eines
vormittags, im niesel. hinterm tapezier-
tisch im fuxxpelz im mantel. hab ich so
aus einiger entfernung hinter flugzetteln
gesehn; da macht ich BLAU eines vor-
mittags unter -strom

(ca. '75)
humboldtgymnasium, düsseldorf. ich sachs
euch: WIR BEKAMN HUMBOLDTSTROM. Doctor
august peters, (GESCHICHTE) zu meinem zuspät-
kommndn freund roehle:          ZIEHN SIE DEN BEUYS
AUS! SEIN MANTEL WAR GEMEINT.

 ('77)
kassel. installation der HONIGPUMPE. ein-
leitung von sauerstoff, daß honigfluß wir
sehn konntn. mittags, vorm friderizianum
bat ich den lagerndn mann bat ich die angler-
weste um den tagschatten gibst du mir
die TOMATN und kam zu mir sein tomatnhant!

From: Thomas Kling: brennstabm, Suhrkamp, Frankfurt am Main 1991

portrait JB. fox fur,
humboldt current, tomatos

(ca '72)
düsseldorf, on schadow square. One
morning, in the dizzle. behind the trestle
table in a fox fur in a coat. I saw
from a distance behind leaflets;
I was skiving off one morning
under –current

('ca 75)
humboldt school, düsseldorf. I'm telling
you: we got humboldt current. Doctor
august peters, (HISTORY) to my friend roehle
who was late: TAKE OFF YOUR BEUYS!
HE MEANT HIS COAT.

('77)
kassel. HONIGPUMPE installation. in-
sertion of oxygen, so that honey stream we
could see. Afternoon, in front of fridericianum
I begged the warehousing man begged the fishing
jacket for the day's shadow will you give me
the tomatoes and to me came his tomato hand!

Translation by Noël Reumkens, Trans 8/2009
——————————————————————————–

SERNER, KARLSBAD

wo in angesagter umgebun' 
di zensur ihr sprudeln begann.

zentralgranitmassn. 
geselchter schnee. nichts

wußte ich, zweiundsiebzig, 
von einem haus edelweiß wo

mattkaiserschrunde oder ocker-
gestimmte, oder sonstwi-erinnerun':

"sprich deutlicher" 
in karlovy vary

. . . di (mittags?)sonne, geschwächt, 
in spiegeln mitgeteilt wurd; wo

der becherovka in geschliffenen 
gläsern und rede auf di marmor-

helligkeit knallte, karlsbad-sounds: 
"o sprich deutlicher" in geselchtm

schnee, und "jedes hauptwort ein 
rundreisebillet."               SERNER

der ging von prag aus 
gemeinsam ins gas.

From: Thomas Kling: morsch. Gedichte, Suhrkamp, Frankfurt am Main 1998

SERNER, KARLSBAD

where even in posted areas
the censors babbled.

tall granite masses.
smoky snow. I knew

nothing, seventy-two,
about edleweiss, ocher

houses of the emperors' realm,
or an otherwise-remembrance:

"speak more clearly"
in karlovy vary.

. . . the (midday?) sun, weakened,
reflected by mirrors; where

the schnapps served in cut glass
and the talk bounced around

the shining marble. karlsbad sounds:
"o, speak more clearly" in smoky

snow, "every noun
a round trip ticket."           SERNER

who left prague as well
headed for the gas.

Translation by Peter Filkins, Poetry Magazine Oct/Nov 1998

——————————————————————————–

LARVEN
 
1913 sind auf Papua-Neuguinea die ströme und
gebirge längst nach den Hohenzollern benannt.
 
der kopf der fremde schnurrt und liefert, für neue
ferne dinge neue namen wobei die sprachn sich
 
vermischen, im mund der fremdes neues schmeckt
wie kopra oder kasuar. das passt zum helm. so
 
dampfen neue masken aus den sumpf-eiländern
auf die feierliche zunge abendland. die gaumen
 
segel knattern frisch ein wind aus übersee, berlin –
die zunge – erhebt als frische toteninsel sich aus
 
dem fiebersumpf der mark. die insel schnalzt schon
kommen worte aus der ferne. südfrüchte fallen
 
der stadt aus dem mund. der ist die neue zunge so
gesprächig. anders irgendwie: es sprechen alle plötzlich
 
wie die papuas, hofsprache iatmul. der mund als Über¬
see, als schein, so strömt der sepik mündet in den rhein.
 
From: Thomas Kling: Fernhandel, DuMont, Köln 1999
 
LARVAE

In 1913 the currents and mountains in Papua-New Guinea
are named after the Hohenzollern since a long time.

the head of the foreign land hums and provides for new
distant things new names in which the languages

are mixing, in the mouth that tastes strange new things
like copra or cassowary. that fits to the helmet. Thus

are steaming new masks from the swamp-islands
on the solemn tongue occident. the soft

palate rattles freshly a wind from the outlands, berlin –
the tongue – rises as fresh island of the deaths from

the fever swamp of the Mark. the island clicks already
words are coming from the distance. tropical fruits are falling

from the mouth of the city. the new tongue of hers is so
talkative. somehow different: suddenly everybody speaks

like the papuas, court language iatmul. the mouth as over-
sea, as glow, thus streams the sepik flows into the rhine.

Translation by Thomas Hübner
It would be great to see an edition of Selected Poems by this author in English!
Thomas Kling: Gesammelte Gedichte, DuMont, Köln 2006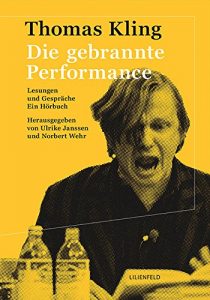 Thomas Kling: Die gebrannte Performance, Audio Book, 4 CDs, Lilienfeld, Düsseldorf 2015
© Thomas Kling, Suhrkamp Verlag and DuMont Verlag, 1991-2006
© Peter Filkins and Poetry Magazine, 1998
© Noël Reumkens and TRANS, 2009
© Thomas Hübner and mytwostotinki.com, 2014-5. Unauthorized use and/or duplication of this material without expressed and written permission from this blog's author and/or owner is strictly prohibited. Excerpts and links may be used, provided that full and clear credit is given to Thomas Hübner and mytwostotinki.com with appropriate and specific direction to the original content.