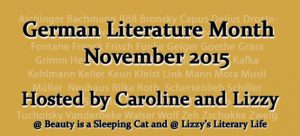 This blog post is part of the German Literature Month, hosted by Lizzie (Lizzies Literary Life) and Caroline (Beauty is a Sleeping Cat)
One of the by-products of my reading experiences is that I am collecting also anecdotes about writers. Good anecdotes can shed a light on certain aspects of the author's life or work in a very concise, sometimes even funny way. As an example may the following anecdote serve.
1826, one year after the German author Jean Paul had died, the Morning Chronicle, an English newspaper, published an article The Mirror of Fashion from which I take the following quote:
"The works of JOHN PAUL RICHTER are almost uninteresting to any but Germans, and even to some of them. A worthy German, just before RICHTER'S death, edited a complete edition of his works, in which one particular passage puzzled him. Determined to have it explained at the source, he went to JOHN PAUL himself, and asked him what was the meaning of the mysterious passage. JOHN PAUL'S reply was very German and characteristic. "My good friend," said he, "when I wrote that passage, God and I knew what it meant. It is possible that God knows it still; but as for me, I have totally forgotten.""
The last two sentences can be considered authentic. They definitely sound very much Jean Paul. (But of course I strongly disagree with the first sentence of the quote as you can easily guess when you read my previous short Jean Paul review.)
© Thomas Hübner and mytwostotinki.com, 2014-5. Unauthorized use and/or duplication of this material without expressed and written permission from this blog's author and/or owner is strictly prohibited. Excerpts and links may be used, provided that full and clear credit is given to Thomas Hübner and mytwostotinki.com with appropriate and specific direction to the original content.