You can say what you want. Those people in the Vienna Libraries are really innovative!
And since some of you may still look for a suitable Christmas gift for a beloved one, I think the special book sign for Paulo Coelho books is a brilliant idea for those souls who read this author, isn't it? 
"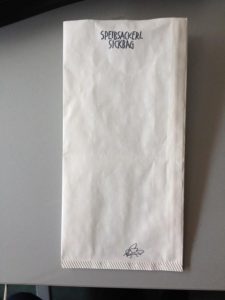 "Speibsackerl" – the Austrian German sounds so much nicer than the Standard German "Brechtüte"…
© Büchereien Wien, 2015
© Thomas Hübner and mytwostotinki.com, 2014-5. Unauthorized use and/or duplication of this material without expressed and written permission from this blog's author and/or owner is strictly prohibited. Excerpts and links may be used, provided that full and clear credit is given to Thomas Hübner and mytwostotinki.com with appropriate and specific direction to the original content.