Our first book project is ready and is being published these days: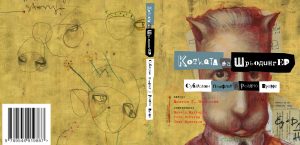 "Schrödinger's cat, one of the most eccentric protagonists of quantum mechanics, philosophizes in a loud and lyrical manner over its schizophrenic state. Locked up in a box together with a deadly mechanism that can be triggered by the decay of a radioactive nucleus the cat is in a superposed, undecidable state: both dead and alive.
In this paradoxical and hopeless situation the cat begins to analyze itself at various levels. It realizes, for example, that its state of indecision and in-between-ness also bears terrific advantages: it frees from the responsibility to necessarily make a decision. To be – not to be, either – or, male – female, one cat – other cat, nothing but binary codes! Meow! The cat uses this unique opportunity to indulge in rhetorical games by mixing gender, political, cultural, linguistic and racial identity-related differences.
As fleet-footed and playful as a cat, the illustrations made by Victor Muhtarov, Tita and their son Sava lead us through the cat's pamphlet full of profound black humor."
Един от най-ексцентричните персонажи на квантовата механика, котката на Шрьодингер*, размишлява на глас, лирично, над шизофреничното си състояние. Затворено от Шрьодингер в кутия с летален механизъм съдържащ атомно ядро в период на полуразпад и отрова, котето, поради липса на алтернативи, е изпълнено с мазохистична любов към безпощадния си създател. То знае, че е част от мисловен експеримент, в който съдбата му е свързана със състоянието на полуразпадналото се атомно ядро. Докато кутията е затворена и наблюдателят не вижда развитието на събитията в нея то е ни живо – ни умряло.
Парадоксалната ситуация на котето, (което само по себе си е само една парадоксална мисъл на един учен) го подтиква към самоанализ на много различни нива. Оказва се, че състоянието на междинност и неопределеност има своите предимства. Отпада отговорността да се вземат решения, отваря се пространство за реторични игри и смесвания на полови, културни, политически, езикови и расови различия в идентичността. Вътрешните конфликти се появяват отново едва при случайната конфронтация с външни наблюдатели изискващи от котето да заеме конкретна позиция. Но диалозите с тях също така му помагат да достигне до новo, съществено прозрение: усещането за право на личен избор и мнение е илюзорно. Всичко зависи от състоянието на атомното ядро в механизма. При тези обстоятелства котето е просто един киборг, сливащ биологични и механични компоненти в една система. Спасение или изход за него може да има само ако системата се отвори.
––––––––
*Котката на Шрьодингер е мисловен експеримент от квантовата механика, представен от Ервин Шрьодингер през 1935 г., с цел да покаже, че пренасянето на понятия от квантовата механика в макросистемите, например обекти с размерите на котка, създава неочаквани проблеми. Според класическата физика, подлежаща основно на законите на Нютон, един обект от макроскопичния свят може да се намира само в едно от множество възможни състояния, а не в няколко състояния едновременно. В квантовата механика, за разлика от класическата физика, една частица може да се намира в няколко състояния едновременно.
(from the book's FB page)
Котката на ШрьодингЕР – субатомен памфлет в реално време / Schrödinger's Cat – a subatomic pamphlet in real time
Автор / Аuthor : Милена Г. Николова / Milena G. Nikolova
Илюстрации / Illustrations: Виктор Мухтаров, Тита Койчева, Сава Мухтаров / Victor Muhtarov, Tita Koicheva, Sava Muhtarov
Издател / Publisher: Ризома / Rhizome, София / Sofia
ISBN 978-619-90544-0-6

Information about the book launching event will follow. 
My special thanks to Milena, Victor, Tita, Sava, our editor Kris Enchev and of course to my co-publisher Elitsa Osenska to whom I am deeply indebted.
Translation rights, more information and a pdf file of the English translation are available on request.
© Thomas Hübner and mytwostotinki.com, 2014-6. Unauthorized use and/or duplication of this material without expressed and written permission from this blog's author and/or owner is strictly prohibited. Excerpts and links may be used, provided that full and clear credit is given to Thomas Hübner and mytwostotinki.com with appropriate and specific direction to the original content.