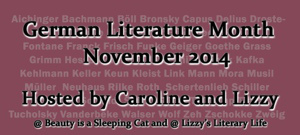 As you know from one of my previous posts, I will participate in the German Literature Month hosted by my blogger colleagues Lizzie (Lizzie's Literary Life) and Caroline (Beauty is a Sleeping Cat) in November for the fourth time.
Luckily, I won one of the giveaways of Lizzie, Marjana Gaponenko's novel Who is Martha? about which I have read enthusiastic reviews in the German-speaking media. Gaponenko is a young author from Odessa that writes in German. She won the prestigeous Adelbert von Chamisso Prize for German-language authors whose mother tongue is not German in 2013. Who is Martha is her second novel and I am very glad that I will have a copy fresh from the printing press for review.
It was not so easy to pick the other books I will read and review for the German Lit Month, simply because the pile of good and interesting books is too big. After some back and forth I decided that I will read and discuss these books in November:
The Nightwatches of Bonaventura (attributed to Ernst August Friedrich Klingemann) (novel), University of Chicago Press 2014 

Marjana Gaponenko: Who is Martha? (novel), New Vessel Press 2014 

Hermann Hesse / Thomas Mann: The Hesse/Mann Letters, Jorge Pinto Books 2005 

Herta Müller: The Passport (novel), Serpent's Tail 1989 

Joseph Roth: Rebellion (novel), St. Martin's Press 1999
I have one or two more books in mind I would like to review, but five books is already quite an ambitious programme and I am not sure if I will have enough time to read and review more in November.
Now I am really a bit excited to see what the other participants will read and review!
P.S.: Since I won – again! – a giveaway at Lizzy's Literary Life's 'Wednesdays are Wunderbar!', I am gladly adding one more book to the list:
Wolfgang Herrndorf: Why We Took the Car (novel), Scholastic 2014 
It will be a very busy month, but the books are worth it!
P.P.S.: In the last weeks, three more books have popped up that I would like to include in the German Literature Month:
Jakob Arjouni: Happy birthday, Turk! (novel), No Exit Press 1996

Kurt Tucholsky: Castle Gripsholm (story), Overlook Press 1988

Jonathan Franzen: The Kraus Project (essays), Farrar, Straus and Giroux 2013
You may be surprised to find a title of Jonathan Franzen on this list, but The Kraus Project is indeed a translation of four essays of Karl Kraus by Franzen, with extensive footnotes by him, the Kraus scolar Paul Reitter, and Daniel Kehlmann.
I hope I can really read and review all this in November!
© Thomas Hübner and mytwostotinki.com, 2014. Unauthorized use and/or duplication of this material without express and written permission from this blog's author and/or owner is strictly prohibited. Excerpts and links may be used, provided that full and clear credit is given to Thomas Hübner and mytwostotinki.com with appropriate and specific direction to the original content.