West Germany, a short time before the fall of the Berlin Wall. Fred, Nickel and Annette are three young people from the South Hessian provincial town of Dieburg. They dream of the big wide world, more specifically of Canada. They do not have any real ideas about this distant country, only that there everything is much nicer and more interesting than in their godforsaken hometown. Fred "Magic" Hoffmann, the one of the three who has a reputation of being a prankster, wants to plant an apple orchard there and produce apple wine (Eppelwoi), the signature drink of their home region – a project that seems almost as realistic as growing pineapples in Alaska.
What distinguishes this youthful dropout fantasy from many others is simply that the three go one step further than many peers in a similar situation. They are planning a bank robbery, which should give them the necessary seed capital. And they are not stopping at the planning phase: astonishingly, their robbery of a bank branch in a neighboring village is successful; the 600,000 marks, are not a gigantic sum, but enough to build an existence in Canada. But Fred gets caught – planning and executing the bank robbery is dealt with in the novel in a few lines only – and sentenced to four years in juvenile jail, which he does with stoic patience and without betraying his partners in crime – finally he has one goal: when he gets out, his share of 200,000 and his friends are waiting for him, and then: off to Canada! (After all, he uses the prison time to teach himself some English, which he then uses in every appropriate and inappropriate opportunity in his dialogues.)
How great is his surprise when his friends do not pick him up at the prison gate and their postal addresses turn out to be no longer correct. It must have come something in between and the friends also did not want to make themselves suspicious and therefore had little contact with Fred during his detention. Finally, the unsuspecting Fred finds out that his friends are now living in Berlin and he is soon on his way to meet them there. But in Berlin he experiences one surprise after another, and most of them are not at all pleasant …
We are in the novel Magic Hoffmann (that's the title in the German original) by Jakob Arjouni, who has become famous for his books about the German-Turkish private detective Kemal Kayankaya. If you expect Kemal to appear here as well, you will be disappointed; however, what works quite similar to the Kayankaya novels is Arjouni's art of developing a character, his often witty dialogues, his eye for the absurdity of certain things and situations, and his unsentimental view of Germany in the late 1980s and early 1990s, his seemingly cynical remarks and his sympathy for his main character, who, despite everything, is quickly taken to the heart of the reader.
The book is also largely a Berlin novel – whereby the city's description pleasantly differs from many works that want to sell us the old-new German capital as the navel of the world. When Fred comes to the city for the first time, he is quite disappointed: Berlin looks the same way as Frankfurt, Darmstadt or Wiesbaden, except that the Berlin people obviously do not understand Fred's special kind of humor; Berliners are regularly rude and unfriendly in this novel, a fact with which Fred has difficulty to cope with. And then there are things that are completely new to Fred: the reunited Germany, the frequent talk of the nation, the anti-Semitism, the presence of violent neo-Nazis in the subway, the police, who are not too eager to do their job and to protect the law, Russians who are doing all sorts of illegal business behind a legal cover, petty criminals and extortionate taxi drivers to watch out for, young people like Nickel and Annette, who think of themselves as progressive and hip, but who behind this façade, often have reactionary opinions and extremely conservative ideas about their aims in life. And everywhere it smells bad and the sky is gray in this city. Berlin can not really impress a Magic Hoffmann. Maybe it's because he's just passing through.
He realizes that his friends have changed a lot. Nickel studies to become a teacher, he has a family and the money of the robbery well-hidden in an investment scheme in Luxembourg. Fred has a lot of patience with him, but then he has to use some serious pressure to get his share. And Annette works on film projects that never get beyond the planning and discussion stage, otherwise she lives in her bubble of pseudo-artists who are looking down on someone like Fred with contempt; it is telling that both of them are very surprised when Fred asks them when they will be leaving for Canada, since neither for Nickel nor for Annette, this has been ever a serious plan.
But luck seems to embrace Fred nevertheless. He encounters the freaky dancer Moni, who does not bother with his completely unfashionable clothes, his strange look or his crime "career". The two are getting closer and Fred is forging plans for a life together with Moni in Canada before fate is striking mercilessly.
A great novel in my opinion: it has a high pace, interesting characters and dialogues, it has wit and it allows the reader to take an unusual but very revealing look at the reunited Germany. Unusual because the reader identifies very quickly with the main character Fred Hoffmann. Fred is a modern literary relative of Eichendorff's Good-for-nothing; he is an outsider for various reasons: bank robber, small town boy, traveler, a person without exaggerated artistic or intellectual ambitions, he is everything that would be described in Berlin as the opposite of hip. But unlike his fake friends, Fred has remained true to his dreams and ideals, with a mixture of naivety and mother wit that makes him very likeable.
The German edition of the novel I read has almost 300 pages; I read the book in one sitting. Highly recommended! What a great loss that Jakob Arjouni died relatively young!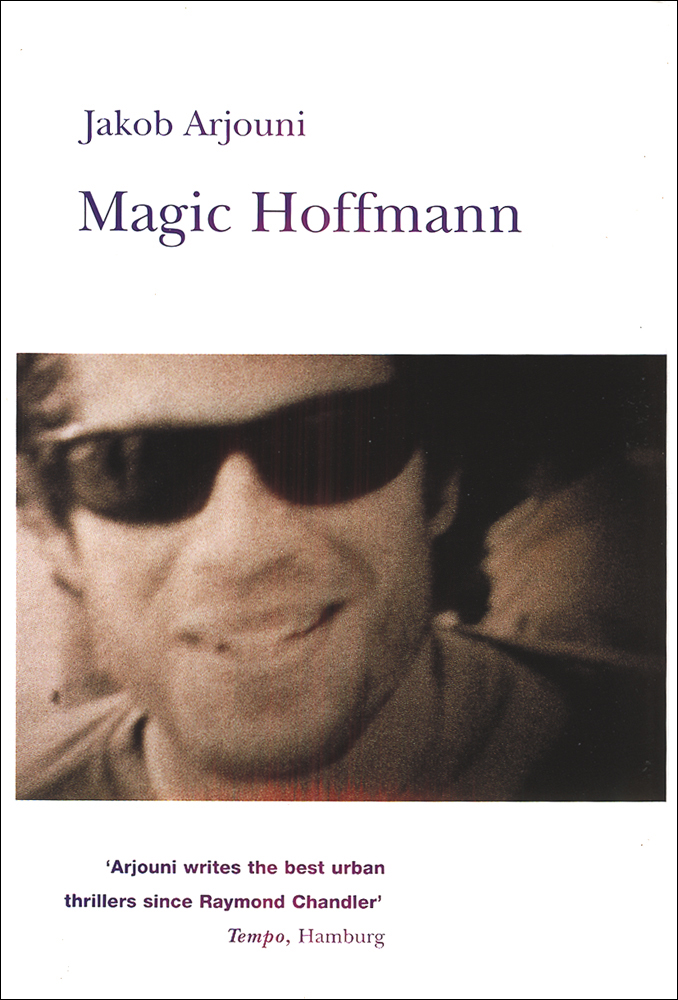 Jakob Arjouni: Magic Hoffmann, Diogenes 2012; Magic Hoffman, Old Castle 2000, No Exit Press (Tr. Geoffrey Mulligan)
© Thomas Hübner and Mytwostotinki, 2014-9. Unauthorized use and/or duplication of this material without expressed and written permission from this blog's author and/or owner is strictly prohibited. Excerpts and links may be used, provided that full and clear credit is given to Thomas Hübner and Mytwostotinki with appropriate and specific direction to the original content.