In the first volume of his autobiography Die gerettete Zunge (The Tongue Set Free), Elias Canetti writes about his early childhood in the Bulgarian city of Ruse – Canetti uses throughout the book the old name Rustchuk -:
"Everything that I experienced later, had already happened once in Rustchuk…On any one day you could hear seven or eight languages."
Despite having spent only his first six years in the city of his birth – the family emigrated to Manchester in 1911 and Canetti came back only once for a visit in 1915 – Ruse and its unique multilingual and multicultural atmosphere at that time left a lifelong mark on the future writer.
A small book in Bulgarian language with the title In Ruse with Elias Canetti (В Русе с Елиас Канети) sheds additional light on this early period of Canetti's life, family background and social surrounding.
In the middle of the 19th century Ruse had developed into a thriving city. Located at the Danube it had by then attracted a lot of trading activities and the port of Ruse was the main artery through which goods were imported and exported from and to the whole region. An additional boost to the economic development was the fact that Ruse had a fast-growing Jewish (Sephardic) community which was one of the driving forces for Ruse's modernization; this together with a general economic boom in the then revived Bulgarian state (until the Russian-Turkish War 1877-78 it had been part of the Ottoman Empire for almost five hundred years) made Ruse the then most modern and truly European city in Bulgaria.  
The authors give us interesting information about the origin and growth of the Jewish community in Ruse and trace back also the family background of Canetti's parents. Grandfather Elias Canetti (the namesake of little Elias) came from Adrianopel (Edirne) to Ruse and became a successful trader, first with his partner in Constantinople, later on his own. He reigned his firm and his family like a benevolent despot, a true family man that cared a lot for his grandchildren and particularly his oldest grandson Elias; but at the same time he expected that his sons gave up on their own plans and would be part of the future family business with branches in all other important Bulgarian cities.
For Jacques, young Elias' father, this was a source of permanent inner conflicts – he was a talented violinist and dreamed of a career as a musician in a chamber quartet. Also Mathilde, his wife and Elias' mother, was a talented amateur musician (she played the piano); there are photos that show the parents as musicians in a public concert in Ruse. Another photo shows Jacques, then a dashing young man, in a carnival costume – both parents who had spent years in their youth in Vienna loved the theatre and literature, things for which Grandfather Canetti had not much interest and which he might have considered at best as harmless hobbies, but as nothing serious.
Beside this latent conflict between Jacques and Elias Senior, another quite open conflict clouded the childhood of the future Nobel Prize winner. Mathilde's family, the Arditis, were against the marriage of their youngest daughter with Jacques Canetti. The Arditis, one of the oldest and high-ranking Sephardic families could trace back their origin until the 13th century when some of their ancestors were astronomers and doctors at the courts of the Kings Alfonso IV and Pedro IV. After 1492, the family settled in Livorno and later in the Ottoman Empire, where several of their members became famous rabbis, kabbalists and scientists; the Arditis were among the first Jewish families in Ruse and looked down on Elias Senior and his family as upstarts, who had just arrived from the Orient and were no match for the famous and cultured Arditi family. One of the remaining (and traumatic) memories of his early childhood in Ruse was for Canetti a visit in Grandfather Arditi's house. This grandfather, who never paid much attention to Elias and never gave him a present, asked his grandson on one occasion, which of his grandfathers he loved more – Grandpa Canetti or Grandpa Arditi. When the poor boy said "Both!", he was immediately called a liar and hypocrite by his maternal grandfather. 
One of the most interesting chapters for me was the one on the artistic talent of Canetti's parents, especially that if his father. Ruse had quite an active social and cultural life, and much of it was initiated and kept alive mainly by its Jewish citizens. Ruse has a beautiful theatre that regarding its size and architecture could be as well in Vienna or Budapest. During Ruse's best times, many famous international troupes visited the Danubian city, the same goes for many musicians and orchestras. There were amateur theatre groups and concerts that raised funds for the education of poor but talented Jewish children, the Bnai Brith Loge played an important role in the social fabric of the Jewish community, and there were also some of the first Zionist organisations in Bulgaria which had their headquarters in Ruse. Other chapters cover the donations made by Canetti's grandfather and father, the efforts of Jews from Ruse to support the war effort in the Balkan Wars and WWI, either as soldiers or by financial support. Another short chapter describes how Canetti learned some folk rhymes and stories from young Bulgarian peasant girls, stories he later found again in a German book about Bulgarian fairy tales and folk stories and that left obviously a deep impression on him. Philately, the role of the different newspapers in the Canetti household (in Ladino and in German), and the comet Halley are also covered by short but instructive chapters.
The Orator is the title of the longest chapter of the book, and it deals with Canetti's relationship with one of the most colorful members of the Canetti-Arditi family, Elias' cousin Benjamin 'Bubi' Arditi (Canetti calls him 'Bernhard' in a letter addressed to him that is reproduced in the book). Bubi, just a few years older than his cousin, was for some time a strong influence for Canetti and he is explicitly mentioned in the second volume of Canetti's autobiography Die Fackel im Ohr (The Torch in My Ear).
After Canetti's parents moved to Manchester with their three sons (Elias, Nissim and Georges), Elias saw his cousin during both visits in Bulgaria; in Summer 1915 in Ruse and in 1924 in Sofia. During this period Bubi had became a fervent Zionist and public speaker. Elias was so impressed by his cousin who engaged himself with all his energy in something much bigger than himself, a cause for the Jewish community, that we find traces of The Orator also in Masse und Macht and in his Aufzeichnungen. For a short time, young Elias seemed also to have considered to become a Zionist. Bulgarian Jews were in those days frequently targeted by the terrorist IMRO (today this extremist right-wing political party that is still proud of its criminal and antisemitic origin and which propagates quite openly violence against ethnic minorities and refugees is part of the Bulgarian Government!), that openly threatened to kill those who didn't pay hefty sums to them; blackmail, collection of "protection" money and contract killings were the main financial sources of this "patriotic" group – today, being part of the Bulgarian government, they use means that are only slightly more subtle – that was in its high time considered the most ruthless group of assassins in Europe.  – When Canetti fell in Vienna under the spell of an even greater orator, Karl Kraus, this interest in Zionist politics faded away completely. 
The book reproduces several letters of Canetti to his cousin Bubi and to people in Bulgaria who got in touch with him in his later life. He found touching words for his attachment to Ruse and the importance of the city for himself and his development as a writer.
This small book is not only very informative, it is also an important document of the renewed connection of the writers' birthplace with this extraordinary son of Ruse. Canetti's daughter visited Ruse for the first time in 1998 and initiated together with Penka Angelova from the University Veliko Tarnovo and other supporters the International Elias Canetti Society, which is now very active to promote the literary work of Elias Canetti, and the values for which he stood. The three engravings that show Old Ruse and that were among Canetti's most treasured belongings, are now back in Ruse – a donation by his daughter. And there is a chance that not only the former building of the trading house Elias Canetti (Senior) in Slavyanski Street 14 in Ruse will be revived, but maybe also that the author's birthplace at Gurko Street 13 will be turned into a museum one day. (Interestingly, the English Wikipedia page about Canetti, claims that the building at Slavyanska is his birthplace – a building that the author has rarely ever entered, since it was an office and a warehouse, not a residential building.)   
While the book provided me with interesting, new to me information and is written with real love and devotion to the subject, I have to mention two points with which I had a problem.
The book contains many reproductions of photos and other documents; that's a good thing since it adds considerably to the quality of the given information and makes the book even more interesting and readable. However – and this really unforgivable – the book mentions absolutely no sources of any of the photos and documents, and therefore also not of the owners of the copyright of these illustrations. That is highly disappointing and doesn't correspond with the standard of a book publication; it is even infringing the copyright – something that is considered in Bulgaria unfortunately as no offence at all by many people. For me it is a question of honesty and intellectual integrity not to disregard in such a shameful way the intellectual property of others, and it is a real pity that such an otherwise recommendable book has such a very serious flaw. 
I had also a problem with a question regarding a detail in the chapter devoted to The Orator. Bubi Arditi, a lifelong supporter of the revisionist Zionist Vladimir Zeev Jabotinsky, the Irgun, and other right-wing groups, was also politically involved with the last Czar Simeon II (and later Prime Minister Simeon Sakskoburggotski).
Simeon launched a long time ago a campaign to depict his father Boris III as the "saviour" of the Bulgarian Jews during WWII, a claim that has been a long time ago discarded by serious historians. In the contrary, Boris III was the main Bulgarian responsible for the extermination of the Jews in the annexed territories in Macedonia and Thracia. I don't want to go into the details here regarding this topic, but it is important to know that Bubi Arditi wrote a book that supports Simeon's revisionist theory.
After referring Arditi's position that Boris III was the "saviour" of the Bulgarian Jews and his blaming the "Jewish communists in Bulgaria" that they are liars, the book claims surprisingly that Canetti shared his cousin's opinion on this question. But while there can be no doubt about the fact that Canetti rejected the communist system in Bulgaria with harsh words, he was never a supporter of the thesis that Boris III was the "saviour" of the Bulgarian Jews and the reproduced letter proves – if anything – the opposite. The rather ambiguous wording of the authors in this particular context leaves room for the interpretation that they think that Canetti shared his cousin's opinion. But Canetti was never ever a supporter of revisionist ideologues and I was rather annoyed by this passage in an otherwise very recommendable text.   
P.S. In case you wonder, the French actor Pierre Arditi is also a member of the Canetti-Arditi family. His father Georges and Elias were cousins.
.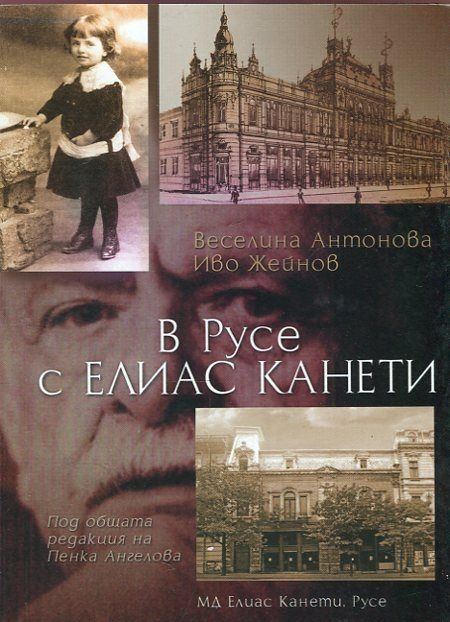 Veselina Antonova / Ivo Zheynov: In Ruse with Elias Canetti, MD Elias Canetti, Ruse 2016
Elias Canetti: The Tongue Set Free, Granta Books, London 1999, translated by Joachim Neugroschel 
© Thomas Hübner and mytwostotinki.com, 2014-8. Unauthorized use and/or duplication of this material without expressed and written permission from this blog's author and/or owner is strictly prohibited. Excerpts and links may be used, provided that full and clear credit is given to Thomas Hübner and mytwostotinki.com with appropriate and specific direction to the original content.