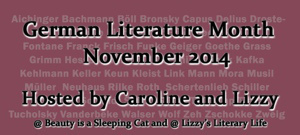 This review is part of the German Literature Month, hosted by Lizzie (Lizzies Literary Life) and Caroline (Beauty is a Sleeping Cat)
Joseph Roth is nowadays mostly known as a literary fiction writer but in the 1920s and early 1930s his reputation as one of the most prolific journalists was outshining even his fame as a novelist. To those who want to get to know the full Roth, I recommend therefore his journalistic work; frequently he touches issues in his articles that he later on used as material or inspiration for his literary prose.
Roth was best when it came to social issues, to the living conditions of the ordinary, mostly poor population of Austria, Germany, France, and the other countries he visited. He wrote for example several long pieces for the Frankfurter Zeitung and the socialist Vorwärts about the fate and the living conditions of the crippled and physically handicapped ex-soldiers of WWI – if you know the artwork of Otto Dix or George Grosz you know how terribly millions of men were mutilated for the rest of their mostly miserable lives.
One such victim of WWI is Andreas Pum, the central figure of Rebellion, the novel that was also first printed in Vorwärts before a book edition was published. Andreas lost a leg in the war, but he seems strangely happy. Not only has he survived, he also got a medal (one of those pieces of metal that governments are quick to hand out) and a license to play a barrel organ and so he can make a living from the few coins he gets from the people listening to his repertoire. To him that is fair enough.
Andreas is a simple, uneducated man. He doesn't reflect his situation and those war cripples that complain about their fate or the lack of support from the government, he considers as malingerers and thieves. Andreas is at this stage the complete negation of the rebel. He just wishes to improve his life a bit and to have a wife and family. A good fate – so it seems to Andreas – sends him a widow whose plump forms attract him and soon he moves in to the widow's house and can enjoy the life of a husband. He loves the widow's daughter like his own child and even for Muli, the small donkey that carries his barrel organ, he has tender and friendly feelings. Andreas is a kind man.
Everything could be perfect for Andreas, but one day he is being insulted by a rude passenger in the tram, one word gives another and the verbal argument is followed by physical violence. A policeman is soon on the scene and Andreas will be held responsible by the court for his violent behavior. How Andreas becomes – just by coincidence and certain unpredictable events in combination with the vileness of the public organs such as the police – a victim of a system that always holds people like Andreas down, shows Joseph Roth's mastery and also his sympathy with people like Andreas, who are always the victims. And who usually even don't remark it.
To read how Andreas is going through a real ordeal is depressing; although he is just 45 years old, he looks with his completely white hair already like a very old man; but the more he is physically degrading, the more conscious he becomes about his real situation, the more he becomes a rebel – a person who disagrees with the order of things.
When I read the book, I realized that there were certain elements you can find also in most other of Roth's novels and long stories: the main character slips down like on an inclined plane, the physical degradation corresponds with an awakening in terms of self-consciousness and acts of rebellion (like not praying to God anymore), and the tone of the narrative is always close to the legend. The similarities to Job and Legend of a Holy Drinker in this respect are particularly stunning.
Rebellion might not be the best novel of Joseph Roth, but I found it well written and touching. For those who are familiar with Roth's oeuvre it will be particularly interesting how in this early work he prefigured many topics and tropes that he was also using in his most mature works of the late 1920s and 1930s.
Joseph Roth: Rebellion, transl. by Michael Hofmann, Picador 2000
© Thomas Hübner and mytwostotinki.com, 2014. Unauthorized use and/or duplication of this material without expressed and written permission from this blog's author and/or owner is strictly prohibited. Excerpts and links may be used, provided that full and clear credit is given to Thomas Hübner and mytwostotinki.com with appropriate and specific direction to the original content.