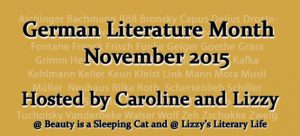 This blog post is part of the German Literature Month, hosted by Lizzie (Lizzies Literary Life) and Caroline (Beauty is a Sleeping Cat)
Friedrich Schiller Week opens the German Literary Month this year officially and I am looking forward to reading what my blogger colleagues will post in this context. Lizzie, one of the co-hosts of German Literary Month has just published a very interesting introduction to Schiller's life and works, obviously inspired by a recent visit in Weimar.
Weimar is definitely worth a visit and not only because of Schiller as you know. But there is a second place which can be similarly inspiring if you are interested in the work of this literary genius: Marbach am Neckar, his birthplace. It is not only the house in which he was born but of course also the Deutsches Literatur Archiv (German Literary Archive; address: Schillerhöhe 8-10) that preserves an incredible amount of manuscripts and belongings of German writers, and that showcases frequently extremely interesting exhibitions. The catalogues and other publications of the Archive are a treasure for those that are interested in German literature (and with a knowledge of German).
—
Great plans and projects: Schiller was usually thinking big. But the fact that he was not wealthy and his life a permanent struggle to secure an income and regular employment influenced his writing. For some time he took a break from drama writing in order to focus on the more lucrative publication of historical works. These tensions between his idealistic plans and his precarious existence as a writer who was not independent from market requirements were in 2005 the subject of an important exhibition at the Deutsches Literatur Archiv (DLA), and the beautiful catalogue is a treat for Schiller fans.
Frank Druffner und Martin Schalhorn: Götterpläne & Mäusegeschäfte. Schiller 1759–1805, 2nd edition, Marbacher Katalog 58, Deutsche Schillergesellschaft Marbach 2005
—
It was for sure a very tough experience for Johann Caspar Schiller, Friedrich's father, when his son – then a regiment doctor – deserted from the army and fled Württemberg. Not only was Johann Caspar a loyal officer in the same army from which his son ran away, he was also for 21 years the responsible supervisor of the Duke's garden at Schloss Solitude and therefore in a quite close working and personal relationship with the Duke and thus in a particularly delicate position. The letters written by the father to his famous son are interesting documents; while after young Schiller's desertion shame and disappointment are the dominating feelings from Johann Caspar's side, he had later to acknowledge that his son achieved more than his father could hope for.
Jean-Baptiste Joly: Johann Caspar Schiller auf der Solitude, Spuren 27, Deutsche Schillergesellschaft Marbach 1994
—
Schiller's older sister Christophine wrote memoirs of Schiller's youth which are a valuable source for Schiller scholars. Although she was like most women of her time forced to lead a life according to social conventions that limited women mainly to homework, education of children and representative tasks, she had an artistic talent of her own, as her drawings and watercolors that are in the possession of the DLA show. The reproductions of her works are one of the highlights of a small catalogue dedicated to her.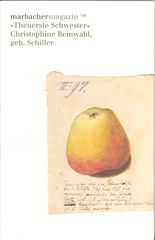 Edda Ziegler in cooperation with Michael Davidis: »Theuerste Schwester«. Christophine Reinwald, geb. Schiller, Marbacher Magazin 118, Deutsche Schillergesellschaft Marbach 2007
—
The catalogue "Aus dem Leben eines Hofrats" is the indispensable guide book if you visit the Schiller House in Marbach in which Friedrich Schiller was born.
Michael Davidis and Sabine Fischer: Aus dem Hausrat eines Hofrats, Marbacher Magazin 77, Deutsche Schillergesellschaft Marbach 1997
—
An original way to approach the person Schiller and his work is via some of his belongings which are now a part of the DLA collection: a hat, headband, three vests, two pairs of pants, two pairs of socks, seven shoe buckles, finger rings, hand warmers, toothpicks, dressing gown button and pocket, a walking stick and numerous curls attributed to him – all of these items have their own history, a history that says a lot about the person Schiller and about his work.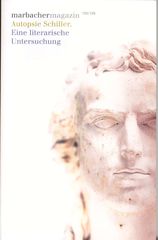 Heike Gfrereis, with an essay by Wilhelm Genazino: Autopsie Schiller. Eine literarische Untersuchung, Marbacher Magazin 125/126, Deutsche Schillergesellschaft Marbach 2009
—
While still in Württemberg, Schiller visited the poet, journalist and musician Christian Friedrich Daniel Schubart in his prison at Hohenasperg in November 1781. Schubart was incarcerated for ten years without trial and verdict, the most famous victim of the "justice" of Duke Carl Eugen. A slender booklet informs the reader about this fascinating episode in Schiller's life that triggered his escape from the Duke's service and that left literary traces especially in Schiller's play "Kabale und Liebe".
Wolfgang Ranke: Schiller, Schubart und der Hohenasperg, Spuren 86, Deutsche Schillergesellschaft Marbach 2009
—
From September 1793 to May 1794, Schiller could visit for the first time after his desertion his home region again. On May, 4, briefly before Schiller's return to Jena, the then almost unknown publisher Johann Friedrich Cotta invites Schiller on a coach ride from Stuttgart to Untertürkheim and to the Kahlenstein hill near Cannstatt. During this day trip, the two men discussed Schiller's plan for his new journal project "Die Horen". It turned out that this ride was the beginning of a long friendship and a for both sides very fruitful author-publisher relationship. A small booklet documents this crucial moment in Schiller's life.
Martin Schalhorn: Ein Sonntagsausflug von Schiller und Cotta nach Untertürkheim am 4. Mai 1794, Spuren 69, Deutsche Schillergesellschaft Marbach 2006
—
In May 1804, Schiller visited Berlin for about two weeks. This time is extremely well documented – whom he met, what theatre and opera performances he visited, where he had dinner and what was going on regarding his planned academic posting to Berlin. All this from Schiller's own notebooks and other sources, but also a comparison of the intellectual climate of Berlin and Weimar and beautiful illustrations you can find in another nice exhibition catalogue.
Michael Bienert: Schiller in Berlin oder Das rege Leben einer großen Stadt, 2nd edition, Marbacher Magazin 106, Deutsche Schillergesellschaft Marbach 2005
—
Until the first half of the 19th century, monuments were only erected in honor of Kings or other aristocratic persons. The Schiller Monument in Stuttgart, created by Bertel Thorvaldsen and inaugurated in May 1839 was the first public monument in Germany in honor of a poet and had therefore a great impact for the democratization of Erinnerungskultur (memorial culture). A small booklet describes the public contemporary debate that preceded and followed the inauguration of the Schiller monument in Stuttgart.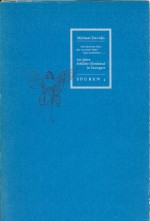 Michael Davidis: 150 Jahre Schiller-Denkmal in Stuttgart, Spuren 4, Deutsche Schillergesellschaft Marbach 1989
—
All publications are available directly from the DLA online shop or at the DLA premises in Marbach.
—
A lot of Schiller, I know. If you are now feeling inspired to write like him, buy yourself an antique standing secretary desk as was used by Schiller (and Goethe), and get in Marbach one of those neat nibs he used for writing (9 Euro; it comes with a small gift case and description).
But don't forget the famous rotten apples for a really authentic Schiller feeling!
© Thomas Hübner and mytwostotinki.com, 2014-5. Unauthorized use and/or duplication of this material without expressed and written permission from this blog's author and/or owner is strictly prohibited. Excerpts and links may be used, provided that full and clear credit is given to Thomas Hübner and mytwostotinki.com with appropriate and specific direction to the original content.