Rachel and Malrich Schiller, the sons of a German father and an Algerian mother, are two brothers that are so different that it is hard to imagine that they come from the same family.
The two immigrant boys, growing up in France without their parents who stay in their home village in Algeria, are agewise just a few years apart but take a path in life that is completely different from each other.
There is Rachel, the older one, who is very serious about his education and studies and who embarks on a successful professional career that enables him to lead the life of a well-to-do middle class French citizen. His French wife makes the picture of a successful assimilation complete, even when the mother-in-law of Rachel, a sympathizer of the racist Front National that seems to become the dominant political party in France, doesn't really accept this Arab – and even worse: German! –  husband of her daughter as a member of the family.
And there is Malrich, who came a few years later to France and who grew up in not so favorable conditions. His world is the banlieue, the soulless ring of suburbs that seem to be designed for the immigrants and socially weaker classes. A world without much chances for a regular job, but a world with criminal gangs and a growing number of violent incidents on the streets. (Mathieu Kassovitz' movie La Haine comes to mind.) Malrich may be a bigmouth sometimes, but he is a genuinely sympathetic young man who sees very clearly what is going on around him. Especially the growing presence of the "bearded" in the banlieue, and the failure of the state authorities to deal with them, is noted very clearly by Malrich.
Malrich finally drops out of school most of the time  and is hanging out with other young lads from his neighborhood who share the feeling of belonging to a lost generation without perspective and without future. His meetings with his older brother who reminds him of the importance of being disciplined and of the necessity to finish his education are a nuisance, and the rare visits of his mother are a sad and mostly speechless encounter every time. Malrich and his mother literally have no common language anymore. His Berber mother doesn't speak French and Malrich has forgotten almost all his childhood Arabic.
One day, the brothers receive devastating news from their home village. There has been an attack by terrorists – probably in one way or the other under the involvement of the Algerian State Security – on their village, and their parents are among the many victims of this gruesome act.
For Rachel it becomes soon an obsession to find out more about this attack and the reason why it happened. There are many unresolved questions for Rachel, one of them is the German origin of his father, who was a respected person and hero of the Algerian independence fight against the French, since he trained Algerian military that was fighting the French forces. After the independence, their father settled in a remote village, married a local woman and later sent his two sons to France. But who his father, a somewhat detached figure, really was, where he came from and what he did before coming to Algeria, Rachel and Malrich have no idea.
For Rachel this quest for the truth is getting more and more obsessive, an obsession that destroys in the end everything in his well-organized life. But it is surprisingly Malrich who finally visits the "village of the German" (the original title of the book) and learns to accept the terrible truth about his father.
This novel is a very touching reflection on guilt and personal responsibility. The Algerian author Boualem Sansal is advocating personal freedom in a world that is threatened by inhumane ideologies. An Unfinished Business (in the US published as The German Mujahid) is an admirable book with characters that no reader will easily forget. Despite it's rather depressing subject, Sansal leaves the reader with a sign of hope: Malrich has grown up fast as a result of the circumstances, and it is a good guess that he will be able to come to terms with the haunting past and with the future as well.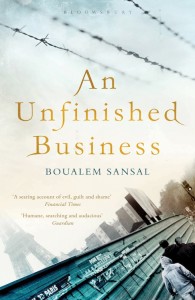 Boualem Sansal: An Unfinished Business, transl. Frank Wynne, Bloomsbury, 2012
© Thomas Hübner and mytwostotinki.com, 2014. Unauthorized use and/or duplication of this material without expressed and written permission from this blog's author and/or owner is strictly prohibited. Excerpts and links may be used, provided that full and clear credit is given to Thomas Hübner and mytwostotinki.com with appropriate and specific direction to the original content.