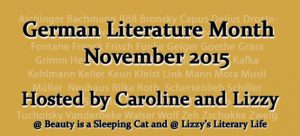 German Literature Month in November was again an extremely interesting event, just like last year. The two unfatigable hosts Caroline (Beauty is a Sleeping Cat) and Lizzy (Lizzy's Literary Life) once again created an event with plenty of opportunities to join in. In the end 44 bloggers had published 166 posts, mainly about fiction and poetry, but also including some featured articles and several non-fiction reviews.
Over the years, this event has become increasingly popular and the index on the website that links to all articles that were published in all editions of the German Literature Month has become a major resource for anyone who wants to get informed about German literature. Check it out, the variety of authors and opinions is truly amazing! (Thanks, Lizzy!)
Interestingly, the most reviewed author this year was Stefan Zweig (14 reviews of 12 works), followed by Schiller (10 posts related to Schiller's works and books about Schiller). Goethe on the contrary was ignored by everybody – maybe we should include a Goethe week next year?
After several months of being not very active, this event has brought me back to blogging on a more regular basis. I discovered plenty of new books, got reminded of some others I should re-read again in the future and I also discovered a few book blogs which I hadn't known before but will follow in the future. It was fun to read the comments and to comment myself sometimes. I read literally all reviews, but time restrictions prevented me so far to comment on all of them.  Just like last year  I thoroughly enjoyed this event, and just like last year, I won a giveaway, Ulrich Plenzdorf's Werther novel which I will review one day of course. (Thanks, Caroline!)
This year, I published ten posts – compared to eight last year. Beside a featured anecdote about Jean Paul, nine of the posts were reviews:
Schilleriana (9 publications of Deutsche Schillergesellschaft)
Hans Magnus Enzensberger: New Selected Poems
Walther von der Vogelweide: Poems
Detlef Opitz: The Books Murderer
Jean Paul: The strange company at New Year's Eve
Joseph Roth: Letters from Germany
Several of the books I had intended to read for German Lit Month, I had to postpone for the time being, while others popped up in the last moment. I reviewed/presented more poetry than last years and a bit less prose by contemporary authors. Who knows what I will be up to next year?!
© Thomas Hübner and mytwostotinki.com, 2014-5. Unauthorized use and/or duplication of this material without expressed and written permission from this blog's author and/or owner is strictly prohibited. Excerpts and links may be used, provided that full and clear credit is given to Thomas Hübner and mytwostotinki.com with appropriate and specific direction to the original content.